Step up to the next level of possibility.
Combi Ovens
With refined lines and sophisticated design the entirely flat 40 Series lets you make the most of your space, be it behind the scenes or out in front of the crowd. Tuck it away in the bar area or have it pride of place in the open kitchen – either way you'll be happy to see this high performer deliver the goods time and time again.
The range includes electric direct steam combi ovens in three sizes (5, 7 or 10 trays) in both manual or digital control, offering flexibility in terms of cooking capacity in its compact footprint and excellent value and versatility in the commercial kitchen.
Turbofan Combi cooking functions are intuitive and activated instantly – cook, steam, bake, slow cook, sous vide or even regenerate in a combi oven.
Learn more about the features of the combi oven below.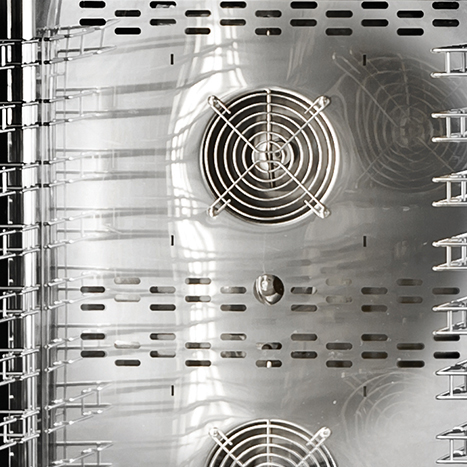 Fan Functionality
It's the auto-reverse action to spin your wheels. Here the automatic inversion of the fan direction ensures perfectly uniform cooking.
Eco Strength
Available on Turbofan's digital models, this innovative Ecospeed system calibrates power levels based on the amount of food being cooked. It's a clever feature that optimises heat delivery while minimising waste – all the while ensuring temperatures remain cons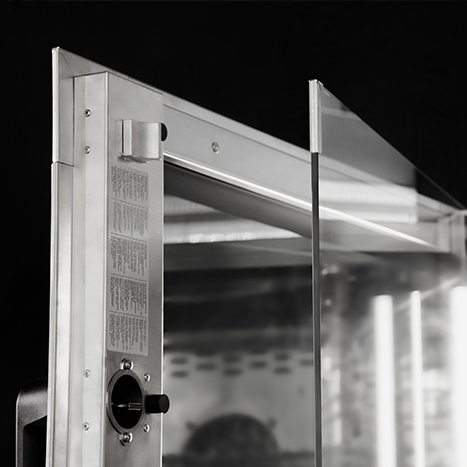 Open Up
The combi-steamer interior has perfectly smooth cooking chamber walls with rounded edges for easy cleaning.
The chamber is sealed by a double-glazed door with thermo-reflective tempered glass. Air cavity within the door prevents heat radiation from reaching users and increasing efficiency, while the internal glass with book opening allows for easy cleaning.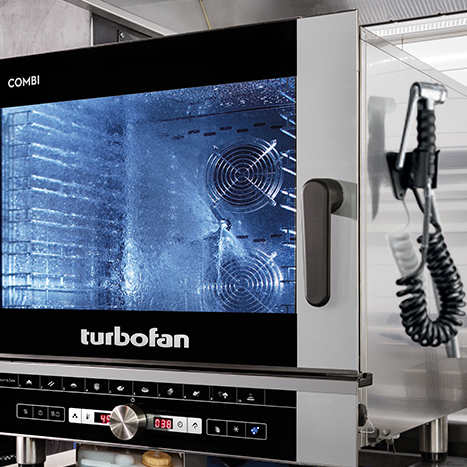 Clean Up
One of the key benefits of the Turbofan combi oven is the provision of a manual cleaning system by means of the externally fitted hand shower, providing a durable and effective quick clean tool.
Too Easy Cleaning
The Turbofan digital combi model is designed with an exclusive automatic cleaning system with replaceable liquid detergent cartridges. So there's no more dangerous topping up on chemical products and no unsightly tanks on show. Just select the required cleaning cycle and it will clean itself automatically.
Combi Steam Cooking
From bread and pizza through seafood, meats and vegetables and onto dessert, the highest standards demanded by your menu are now within reach and throughout every service.
Learn more