From bread and pizza through seafood, meats and vegetables and onto dessert, the highest standards demanded by your menu are now within reach and throughout every service.
Combination cooking involves using both convection heat and steam during the cooking process – producing food that is crisp on the outside, moist and juicy on the inside. This is done by having steam produced throughout the cooking process, controlled by the combi oven to provide the proper temperature, sealing in moisture, flavor and nutrients. With the combination of convection heat circulating in the oven chamber to finish off with just the right amount of browning and crisping.
There's an array of functions that can be used in a combi oven which can replace many traditional cooking methods where a range of cooking equipment is commonly used.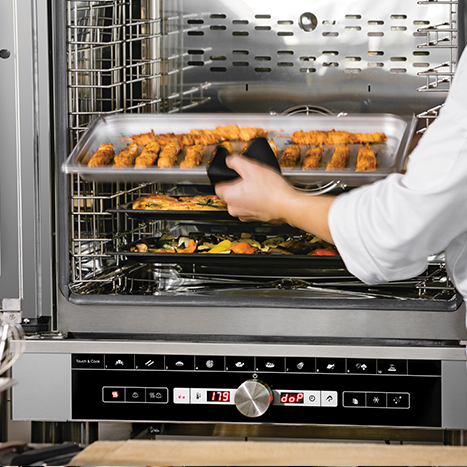 Convection Cooking
Roasting and cooking
Crispy and dry, soft and juicy, somewhere in between – it doesn't matter what you require, the 40 Series delivers superior results with 1/1 GN full loads. The variable ventilation speeds with automatic power reduction in the digital models also provide added ease for reaching peak crispness and perfect browning.
Baking
When it comes to convenience and consistency the 40 Series delivers quality in quantity. Be it frozen goods, morning products, croissants, savouries or any other baking, your creations will rise to the top.
Temperature range:
Manual model: 122-500°F /50-260°C
Digital model: 86-500°F / 30-260°C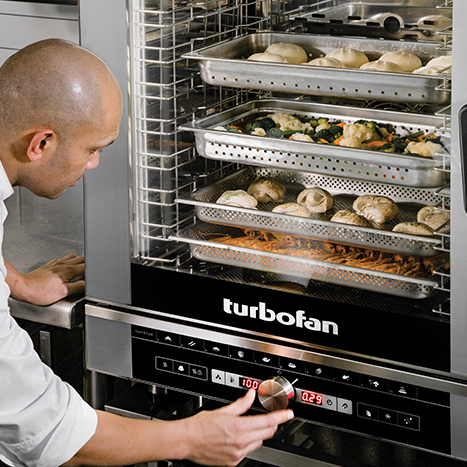 Steam Cooking
There's a very good reason why so many incredible dishes around the world start and end with steam – sometimes it's all you need to create the perfect dish.
The 40 Series provides enhanced flavour, colour and consistency thanks to the work of the generous Turbofan Combi steam generator. This technology ensures there's no waste, with maximum precision and control, even at low temperatures. Thanks to the automatic steam regulation in the cooking chamber you'll deliver succulent results with speed and simplicity.
Temperature range for steam cooking:
Manual model: 122-266°F/50-130°C
Digital model: 86-266°F / 30-130°C
Combi Steam
Beat the battle of shrinkage using the combi steam mode to ensure meats and fish cook evenly without risk of drying out. Temperature and humidity are automatically controlled at levels perfectly matched to the food. This means all the succulent juicy tenderness is there when it's time to serve – and also when you need to warm pre-cooked foods.
Core temperature probe
Available in the digital models of the 40 Series, this tool provides a reliable alternative to timer operation. The multipoint temperature probe can be used in conjunction with any program mode by sensing internal product temperature for an accurate cooking result.
Temperature range for combi steam cooking:
Manual model: 122-500°F /50-260°C
Digital model: 86-500°F / 30-260°C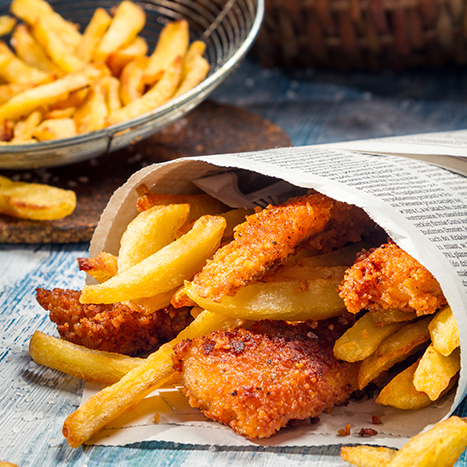 Broiling and Frying
Broil golden. Fry fantastic. The Turbofan Combi Automatic Moisture Control system combines with our custom tray and broil accessories for the very best in lip-smacking, finger-licking results.
It also cuts down on the equipment and preparation time that's often needed. As the AMC system maintains the ideal climate inside the cooking chamber (by controlling both temperature and humidity) you won't need any other appliances for frying or broiling.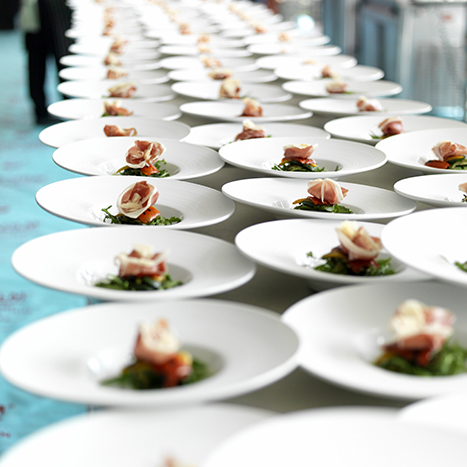 Regeneration
For a refined regeneration process, the 40 Series provides the ideal balance of brute power and innate precision.
Returning chilled or frozen food to optimal temperature and appearance while also ensuring the best texture and taste is no easy task. Suited to the regeneration of vegetables, proteins and starch food products, the 40 Series is as effective for bulk banquet portions as it is for the single dish.