SERVE NOW. I'M READY.
EXTENDED HOT HOLDING
READY. WHEN YOU ARE, AND WHEN YOU'RE NOT.
Planning for unexpected busy service periods has always been a challenge for the modern commercial kitchen. There's never been a magic switch to turn food instantly hot, at least not one that will deliver a quality result each and every time.
The Turbofan EHT10-L extended hot holding cabinet ensures you can cook ahead, stage food correctly and serve up with confidence.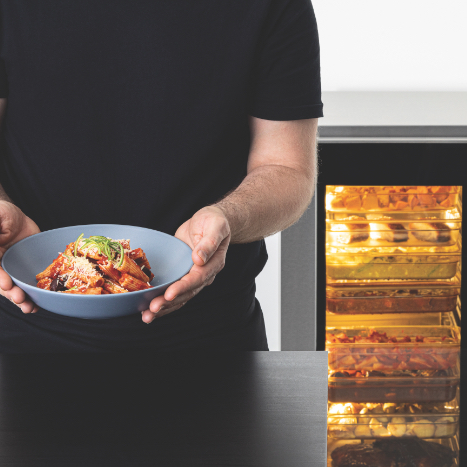 Serve with absolute confidence
Extend the life of key menu items without compromising on quality, ensuring the meal on the plate is indistinguishable from that which is freshly cooked.
Turbofan ready allows chefs to track when the product reaches the end of its holding cycle for discharge.
Make service time a breeze and your customers satisfied.

---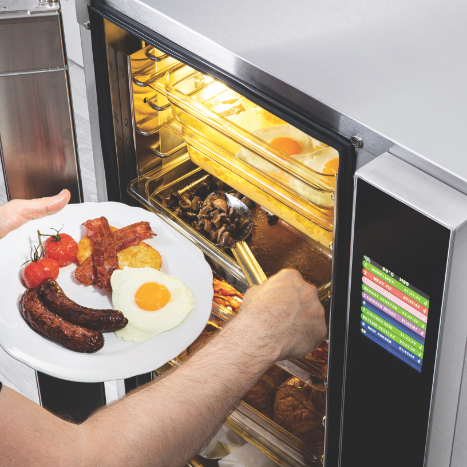 Plan ahead and consistently
deliver fresh held food, fast.
Cooking to order with a long row of dockets can be pretty stressful as a chef.
Turbofan's extended hot holding cabinet can extend the life of your key food items, so you won't be caught short during peak demand periods.
Hold food for partial or full dish assembly, garnish – and it's pretty much done.
Turbofan is ready to solve:
Hold hot food during service
Reduce food waste
Consistent food quality
Speed of service
Ease of operation
Multiple service arms (dine-in/ takeaway / meal delivery)
---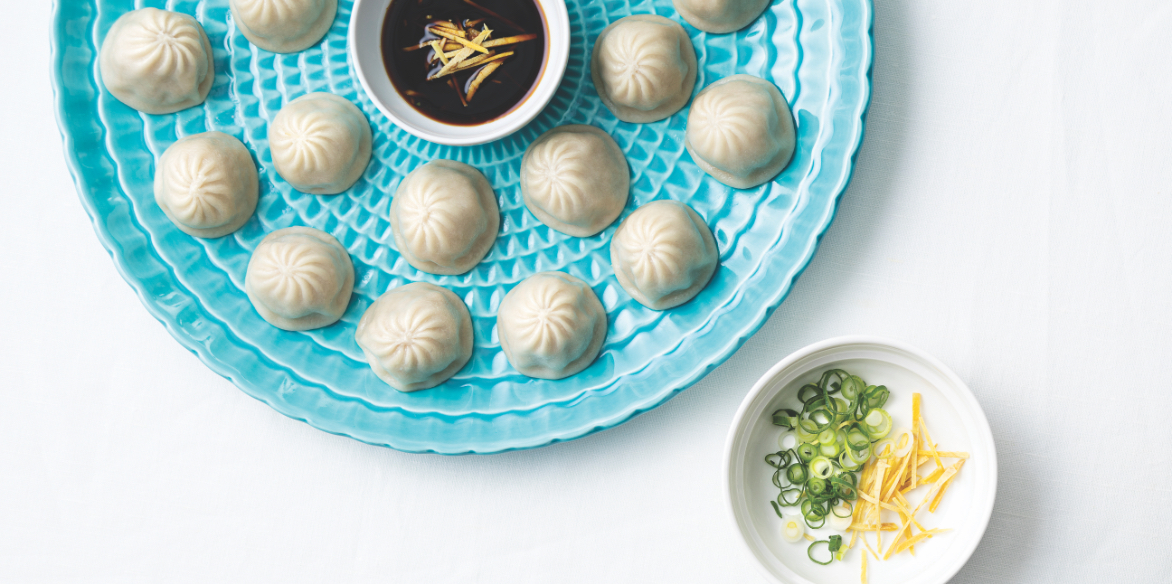 All day menu staging.
Prepare your day menu items all ahead of time and hold it hot during service times – breakfast, lunch, dinner, or even all day dining.
Serve now. I'm waiting.
Turbofan is ready for anything. The versatility in the food items you can hold all in one cabinet delivers a great advantage to speed in plating for service with this new concept.
Turbofan is ready to hold:
Grilled food
Baked food
Fried Food
Roasted food
Braised food
Steam food
Sauces / Soups
Pastries
Proteins
Pastas / Rice / Cereals
Vegetables
---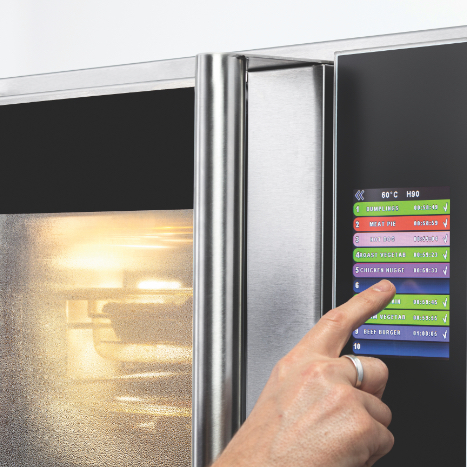 Your ideal holding atmosphere
Thanks to an innovative approach to humidity control in the EHT10-L cabinet, you can create the ideal holding atmosphere for sustained quality within the ideal temperature and humidity zone.
Store specific holding programs for all menu items and set an effective favourites/day menu list.
Turbofan EHT10-L monitors shelf levels, letting you know when a specific food is near time limits and allowing for the quick and easy rotation of key items.
---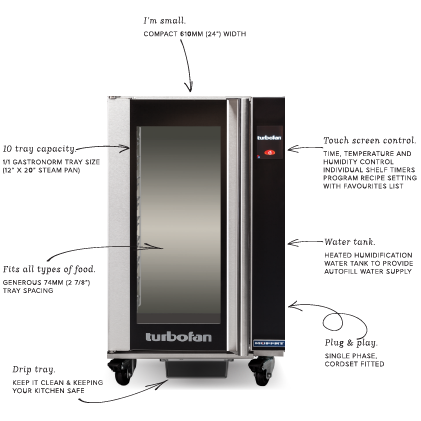 The reliability rule.
Turbofan's extended hot holding cabinet provides ongoing consistency, delivering exacting temperature and humidity conditions so a wide range of food can retain all the natural flavour, texture and juices as if it has been freshly cooked.
Turbofan ready EHT10-L
---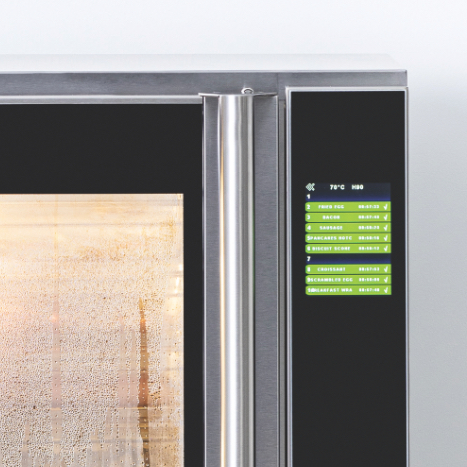 Safety in numbers.
The EHT10-L ensures all operators know exactly how long the food has been in the cabinet for. What this means is that you will always be serving food that is hot and safe to serve.
Hot holding times will vary from 30 minutes for fast cooking products for up to 2 hours for others.
Stay safe: Hot food cannot be held for a long duration to be deemed safe to eat. Check with your local food safety standards in your country to understand the maximum food hot holding time range.
---
---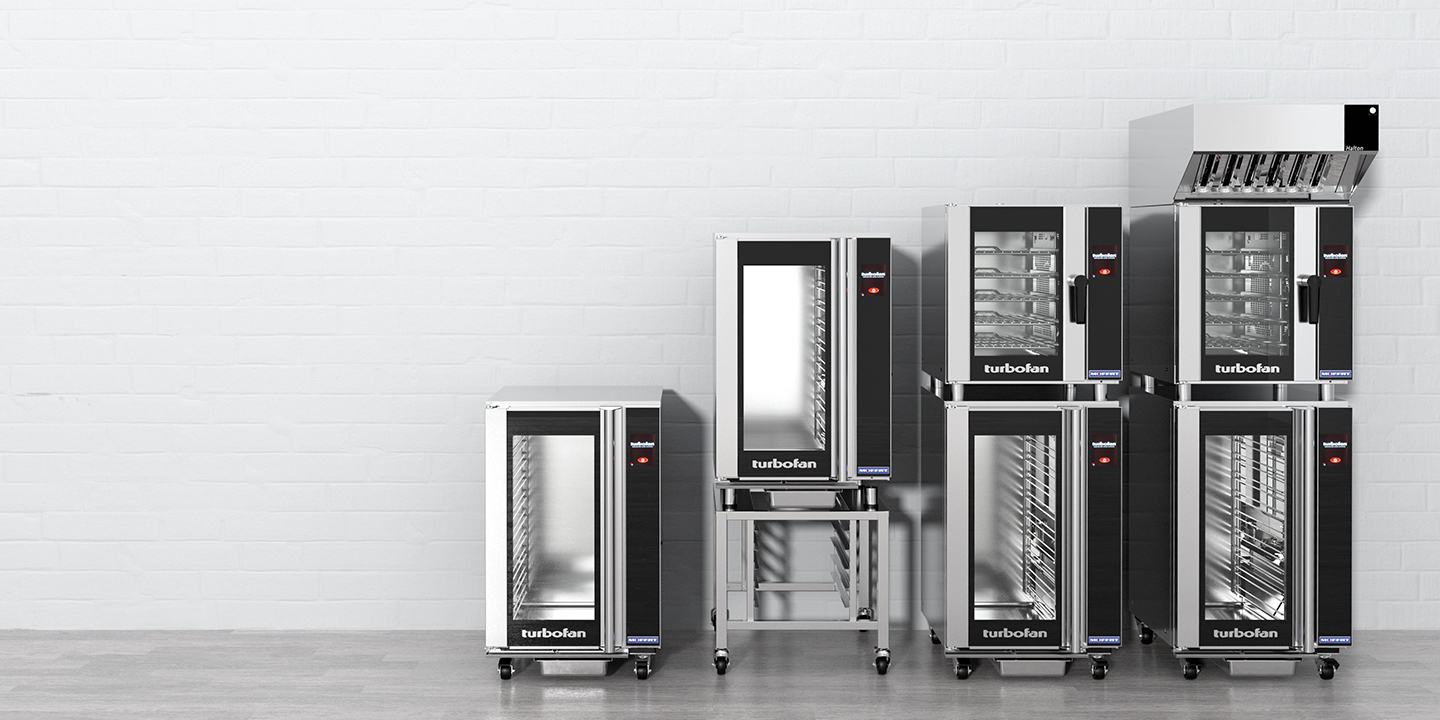 Hot holding can go anywhere.
With the flexibility of the EHT10-L you can take
your cuisine capability anywhere and everywhere
it's needed. This potential for different options of
staging is undoubtedly convenient
for the busy kitchen.
Are you ready?
Welcome to the convenience of extended hot hold. It's time to make the most of your menu – request to get the Turbofan extended holding handbook.
Request a copy