Name:

Snooze AM Eatery

Restaurant Chain
Location: 17 locations in Colorado, California, Arizona and Texas
Products: E32D5 and G32D5 convection ovens
Favourite menu items to cook in oven: Puff pastries, signature bacons to chilaquiles
The versatility of Turbofan helps produce everything from puff pastry to chilaquiles for this burgeoning breakfast eatery brand, ensuring the brains behind the operation don't lose any sleep when it comes to their kitchen equipment.
When Snooze an A.M. Eatery's first location opened 10 years ago in Denver's Ballpark neighbourhood, it was brothers Jon and Adam Schlegel's dream not only to create a memorable breakfast experience but also to use pancakes as a vehicle to become involved in the community.
Exponential growth of the operation ensued, proving that a seasonal menu with classic dishes marked by creative twists is a recipe for success. Snooze now has 17 locations in Colorado, California, Arizona and Texas, with more on the way in their QSR chain franchise.
Open daily for breakfast and lunch from 6:30 a.m. to 2:30 p.m., these high-volume restaurants typically bring in 1,200 guests per shift on an average weekend day.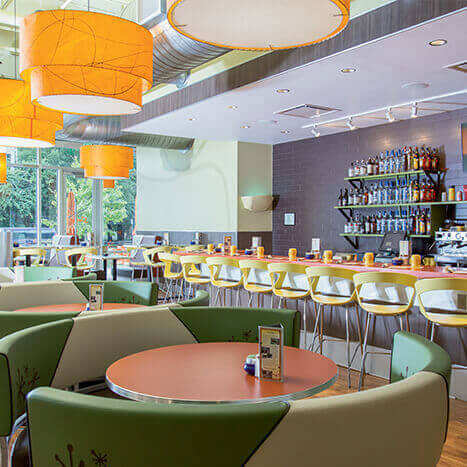 "Snooze's food service equipment is tested on a regular basis, especially our ovens, which are on an hour prior to opening for baking and roasting, then running continuously throughout the day," says Farrokh Larijani, Culinary Director and head of Heart of House (kitchen training) Operations. "Two to three times a week we roast meat overnight. So during these periods the oven will be operating for 48 hours straight."
About three years ago, the operation was in the market for a space saving, more efficient oven that could handle its high-capacity bacon and puff pastry production needs.
Snooze reached out to Moffat, who dispatched their Executive Chef to test the half-size Turbofan convection oven at one of Snooze's Austin restaurants. This unit was geared for the menu's diverse needs, as it can be used for proofing, baking, roasting and holding.
"The staff at Snooze were really impressed when comparing this unit to their existing oven," says Danielle Brach, Moffat's Regional Sales Manager. "We instantly knew it was an ideal fit for the operation."
After testing the oven for a month, Snooze began purchasing Moffat's full-size Turbofan E32D5 digital electric and G32D5 digital gas convection ovens for its locations. At 29 inches wide, the units are compact for small spaces yet still accommodate five full-size sheet pans with 3 1/3-inch tray spacing. They offer manual or program modes, a thermostatic range of between 150° and 500° F, and a timer range from 180 minutes in countdown mode.
Single bi-directional fan systems promote greater air efficiency, while an auto-off oven light feature offers energy savings — important components for Snooze, which has incorporated a number of sustainable initiatives into its operation. "This model also provides multi-stage cooking capabilities with up to 20 programs, so it's a very versatile oven," says Brach.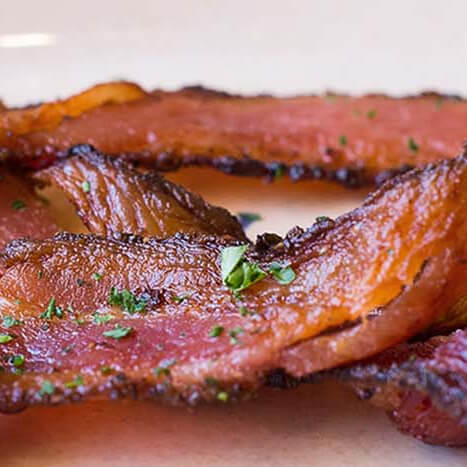 This versatility allowed Snooze to expand the use of the ovens from cooking its puff pastry and its signature bacon, which takes 40 minutes and is prepared every hour, to also preparing seasonal items like beets and other root vegetables, which require roasting and moist heat cooking. "And the oven is a key tool for producing two of our seven signature eggs Benedict dishes," says Larijani.
The Turbofan slow roasts the barbacoa overnight for Snooze's Chilaquiles Benedict, which tops ranchero-sauced tortillas with the beef, melted cheese, cage-free poached eggs, roasted poblano hollandaise, pico de gallo and cotija cheese. The oven is also used to prepare the slow-roasted pulled pork in its Chile Verde Benny, which combines a stack of green chili-sauced tortillas, melted cheese, cage-free poached eggs, green chili hollandaise, pico de gallo and cotija cheese.
"To finish off these top sellers, we layer sheet pans with corn tortillas and put the sauce on top, layer the cheese and toppings, then place it in the Turbofan oven to bake for 15 to 20 minutes," says Larijani.
Another signature item the Turbofan oven is instrumental in creating is Snooze's Breakfast Pot Pie. This consists of homemade rosemary sausage gravy smothering a flaky puff pastry, topped with an egg. "It's our spin on biscuits and gravy, with puff pastry dough molded into bowls and baked in the Moffat oven," says Larijani. "Our standard cooking temperature is 375° F for the pastries, bacon and bulk sausage and 275° F for overnight roasting."
Larijani notes that along with ease of use and dependability, the Turbofan oven recovery times are fast, which is important when keeping up with the restaurants' high-volume production. "What is really beneficial is that we can see the oven's ¾-inch LED digital display from across the kitchen, and it is easy to read," says Larijani.
"The touch-pad operation also is simple for cooks to use — and foolproof." He adds that the Turbofan's cleaning and maintenance needs also are minimal, which is a big plus. He performs a deep cleaning once a week and light cleaning every day with a quick wipe down. Moffat's Turbofan ovens have played an instrumental role in growing
Moffat's Turbofan ovens have played an instrumental role in growing this innovative operation and will continue to do so moving forward.
"We have plans for 2017 to enter a few new markets, like San Antonio and Westminster in Colorado, as well as adding more sites in Houston, San Diego and Arizona," says Fairchild. "We are growing with care to ensure that the culture and quality of our brand remain as the best breakfast experience around."
To find out how the Turbofan convection ovens can assist your QSR market, contact us to speak with a Moffat IQ pro today.
Save
Save
Save