Turbofan Halton ventless hood – no-limits cooking and baking meets fresh air thinking
← Back to News
Inspiring a new dimension of culinary creativity by Turbofan, unrestrained by space, unattached to limits – the kitchen atmosphere is changing for good.
An exciting addition to the Turbofan range, the new Halton ventless hoods are set to transform the way you cook, create, and move around the commercial kitchen. It offers an unrivalled free-range cooking experience, bypassing the need for ducted ventilation, so you can expand your operations anywhere to meet demand, without having to refit your entire ventilation system or relocate existing exhaust systems.
Chefs can cook anywhere now by going ventless
Turbofan is renowned for helping you use your space differently, offering a broad range of convection ovens that has a compact footprint to large production capacity ratio. By adding a ventless hood, you can establish a cooking zone almost anywhere, attract a crowd, and delight your patrons, because you're not confined to placing your oven under an exhaust canopy.
With single-phase installation and no drainage collection or extraction vent connections to worry about, there's no need to compromise. You can set up with ease – leaving behind only fresh air, great food, and happy diners. It's a truly free-range cooking experience anywhere on your premises – front of house, or back of house in the commercial kitchen – a great solution for those looking to add extra productivity and/or expand their menu.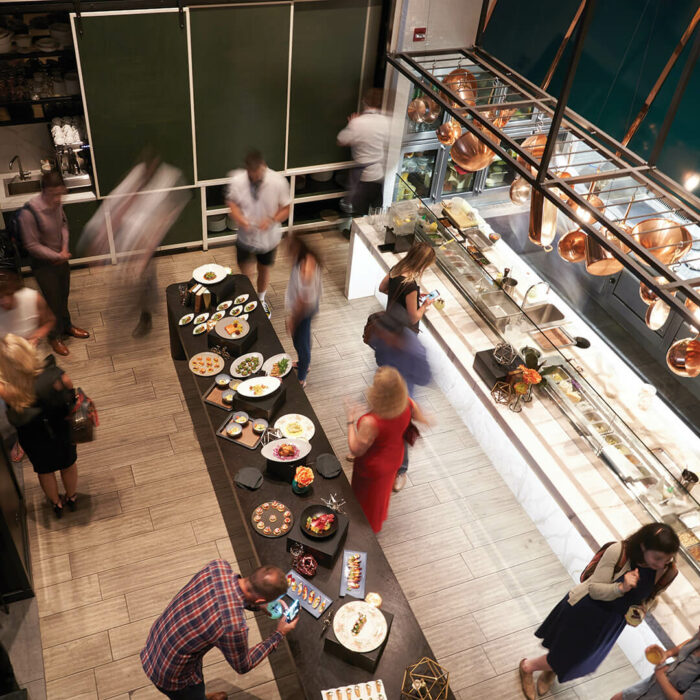 Greater independence and freedom in the modern hospitality kitchen
The modern hospitality industry has enjoyed huge growth over the years, thanks to innovations in commercial kitchen equipment.
In the past, many businesses have found their options for increasing production capacity or expanding their menu are limited by space in the kitchen with their existing ventilation boundaries. But now they can create a new cooking station anywhere, simply by adding any Turbofan 30 Series electric convection oven with a Turbofan VH Series ventless condensing hood.
Cost-effective extraction canopy installation
A professional kitchen ventilation system can be one of the most complex elements to design and construct when fitting out a venue, and once you've settled on a floor plan and had everything installed, you're stuck with the layout long-term. With the Turbofan VH ventless hood, you can sidestep these challenges completely. All you need is a power source and a little space, and the ventless hood will take care of your ventilation – no bulky canopy or expensive installation costs are required.
An eco-friendly kitchen equipment solution
When it comes to commercial kitchen equipment, ventilation systems are huge consumers of energy, and running an entire exhaust system at certain times when you have smaller operating requirements is incredibly wasteful, both in terms of the resources used and your bottom line. With ventless technology, you'll only use what is needed at the time, in a controlled and targeted manner – saving both energy and money.
Turbofan's VH ventless hoods have a three-stage filter, ensuring a cleaner, safer air in the kitchen. Chefs and patrons are able to work and dine in comfort, without the adverse health impacts of heat emissions, excessive moisture levels, or invisible air pollutants.
When fitted to Turbofan's electric convection ovens the hood complies with EPA 202 testing standards, releasing less than 5mg/m3 of greasy residue back into the air, thanks to the three-stage filter.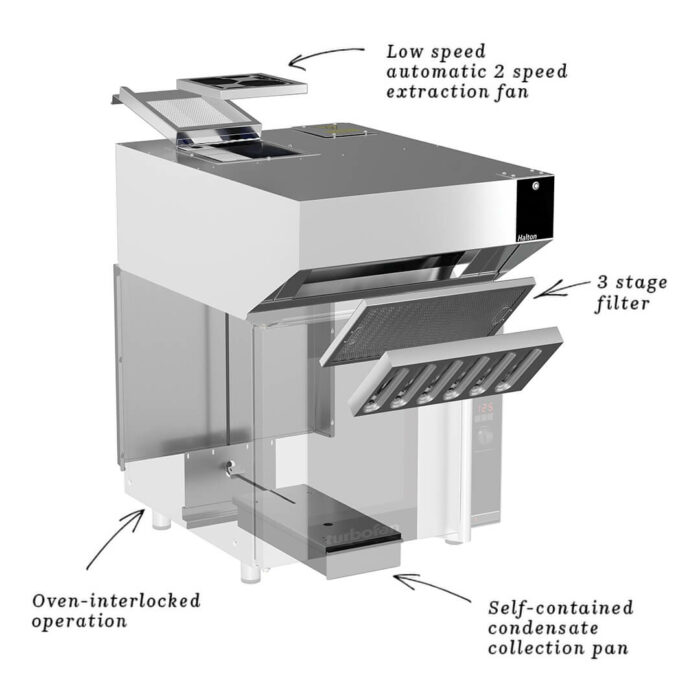 Enjoy the benefits of the Turbofan Halton ventless hoods:
An innovative ventless oven hood, designed to suit Turbofan 30 Series electric convection ovens
Condensing heat exchanger to reduce heat emissions
Connect it anywhere with a single-phase connection
Oven-interlocked operation – ventless hood will operate only when the oven is in operation
Low-speed automatic two-speed extraction fan
Three-stage filter, including grease baffle filter (removable), mesh particle filter (removable), and charcoal odour filter (replaceable)
Self-contained condensate collection pan – no connection to waste drain required
Cook anywhere, anytime with ease with our portable ventless hoods
"The Turbofan Halton ventless hood gives businesses more opportunities in any venue. They can do display cooking front-of-house, or use it anywhere they want – stadiums, cafes, pop-ups, function centres, shopping centres or internal food courts," says Asa Passfield, Turbofan Product Manager.
It's the unique versatility and flexibility that makes Turbofan's ventless hoods a better choice. Because the unit can be moved around with ease, your chefs are able to cook anywhere. You could set up a pop-up stall in a shopping centre, promote your dishes at a sports stadium or function centre during a major event, or delight your customers by putting on a cooking display front-of-house. Within the kitchen, a Turbofan Halton ventless hood offers you endless possibilities – you can reconfigure your floorplan as your business evolves, without spending a fortune moving your existing vented system.
Add a ventless hood to these 30 Series Turbofan convection ovens:
Turbofan's range of versatile convection ovens have been carefully designed to suit small- to medium-sized kitchens, in venues such as cafes, restaurants, and catering businesses. Turbofan convection ovens allow you to boost production without increasing your kitchen footprint, thanks to their compact size. Combining moisture-injection technology with the enhanced heat transfer capabilities of a convection fan, the Turbofan range produces optimal results every time, no matter what you're cooking.
VH31 – compatible with E31 convection ovens
VH32 – compatible with E32 convection ovens
VH33 – compatible with E33 convection ovens
VH35 – compatible with E35 convection ovens
For chefs wanting to become more versatile in the commercial kitchen.
It's an easy quick win for any chefs in the food service industry to expand your culinary activities without the constraints of a higher cost of refitting your kitchen or the lack of space in the kitchen. You can look to Turbofan giving chefs the convection oven cooking power that now has the added flexibility to be everywhere and anywhere with the new VH ventless hood addition in its family.
For more information on how the Turbofan Halton ventless hood can transform your kitchen, get in touch with our team today.